The Perfect Stool for Barrel Blind Hunters
---
"Off -Set Arm" pivoting blind stool reduces the cramped nature of concrete barrel blinds.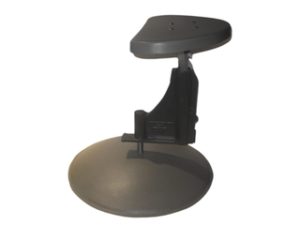 Two piece adjustable cast aluminum stool rides on a one inch dia.  SSt shaft assembly molded into the stools fiberglass base.  Stainless steel, aluminum and fiberglass, NOTHING to rust.  This is a proven 30 year blind stool.
The stools 12 inch off-set seat feature positions you back to the inside wall of the barrel, creating leg room and most important allowing you complete freedom of movement through 360 degrees of duck scanning rotation.
In addition, a gun butt rest is incorporated into the lower front of the stools aluminum casting.  You, the stool, and your vertically held gun pivot as one unit.
Price: $295.00, plus sales tax, FOB San Jose, CA 95124
Yellow Lab Duck Blinds
P.O. Box 24942
San Jose, CA 95154
Rich Chamberlin
408/377-5186
408/962-6550 cell

© 2017 - Grassland Water District
200 W. Willmott Avenue, Los Banos, CA 93635 |
T: (209) 826-5188
| Fax: (209) 826-4984