Planned Breeding Truelines Wild Son MH, WCX, QAA2 "Nike" x RattlinRidge Tornado Alley SH "DeeDee", Black and Chocolate Lab Pups
---
Nike will be running the National Amateur in 2018.  He is looking to have his FC AFC in 2018.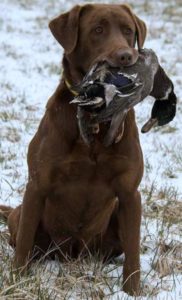 DeeDee is 5 for 5 on her Seniors and 1 for 1 on her Master Hunt Test.  DeeDee enjoys hunting pheasants in her home state of Washington.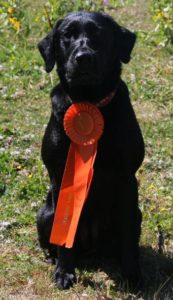 Parents of this breeding have outstanding pedigrees.  Multiple generations of field proven and healthy dogs.  Combining excellent genetics of retrieving, pointing, hunting; some of the best field trial champion lines available.  Nike and DeeDee puppies are expected to be extremely biddable, intelligent, and talented labs.  These dogs will be versatile; able to easily compete in a variety of venues and make great hunting companions and family dogs.  They are highly driven to hunt or compete in field games, yet calm in the house.  The parents are extremely personable, team players and easy to train.  Expected size: Fem 50-55 lbs., Male 60-70 lbs.
Each of these parents are not only competitors, they are hunters.
Breeder may be contacted via website/Trainer may be contacted via phone at 209-207-4802
Jeff Nunez
jetstreamretriever@gmail.com

© 2017 - Grassland Water District
200 W. Willmott Avenue, Los Banos, CA 93635 |
T: (209) 826-5188
| Fax: (209) 826-4984